FORMODAL®
FORMODAL® – special materials produced for tool making, mold making and model making – can be supplied from small to extra large dimensions.
FORMODAL® materials are characterized by their outstanding machining properties, low internal stresses, dimensional stability and wide range of sizes available. For basic requirements, one uses FORMODAL® 023, a cast alloy based on EN AW-5083. The starting material here is blocks with dimensions of 157.5 x 86.3 x 23.6 inches and 141.7 x 64.9 x 41.3 inches.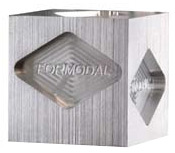 For demanding applications – such as injection molding tools for series production – one should use FORMODAL® BM-400. This is a high-strength material. Depending on dimensions, it can be rolled, drawn, compressed or forged. Multiple saw plants are on hand to manufacture blocks up to 27.5 inches thick to our customers' desired dimensions.
Available forms:
Sheets ∙ Plates ∙ Cuttings ∙ Circular blanks ∙ Rings ∙ Parts from drawings